Welcome
"

The Long Road to You wraps Kelly & Ellis' journey—a tuneful autobiography, a slice of music history and a vision of their future—in lush, guitar-rich arrangements. Were lucky to go along for the ride."
— Acoustic Guitar Magazine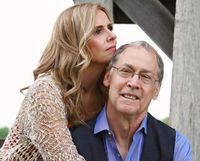 The Long Road to You, is an up-close and personal musical event of seamlessly interwoven stories and songs from the lives of Multi-Award Winning Artists Casey Kelly and Leslie Ellis. Their compelling story is rooted in Rock-n-Roll, Broadway, and Hit Songwriting and culminates in a Love Story that leaves the listener charmed.
They create a Multi-Genre Experience by drawing from their past and present experiences and combining original songs with fresh takes on old favorites. Through their touching, and sometimes hysterically humorous stories, the audience can catch a glimpse of the ups and downs of life in the music business and how the unexpected things in life lead you right to where you belong. 
From the very first chord, Kelly&Ellis welcome the audience to travel their life's journey, in an Intimate "Listening Room" Environment - surrounded by candle-lit tables - that makes a large room feel like an Acoustic Coffee House. Their unique story is rooted in Rock-n-Roll, Broadway and songwriting and culminates in a Love Story that leaves the listener charmed.
Kelly&Ellis are not newcomers to performing. Multi-instrumentalist and Grammy® nominated songwriter Casey Kelly, began his career as a Rock-n-Roll recording artist for Elektra Records, touring with Loggins & Messina, Poco, and the Beach Boys. He excelled with his superb finger- picking style as a guitarist for Tom Rush. He had his first success as a songwriter with Bob Lumen and went on to become one of the biggest songwriters in Nashville with hits like "Anyone Who Isn't Me Tonight" (Kenny Rogers and Dottie West), "Soon" (Tanya Tucker), and George Strait's iconic signature standard, "The Cowboy Rides Away."
Grammy® award winning vocalist Leslie Ellis, began her career on Broadway starring in award winning shows like "La Cage aux Folles" and "CATS, The Musical." She entranced sold out audiences starring as Grizabella singing the famous song we all know and love, "Memory." After her Broadway days, Leslie became a sought after studio singer and in 1998 won a Grammy® award for singing with Celine Dion on "My Heart Will Go On" from Titanic.


We are so excited to announce the release of 6 new videos that show our journey through the show. We shot our live performance and the lush and wonderful Gettysvue Polo, Golf and Country Club in Knoxville and had the best time ever!
See the slide show below for photos from the event. Find out about "The Long Road to You" - the Live Show Here