Press - Scroll Down for More Articles and Reviews

Casey Kelly and Leslie Ellis: "The Long Road to You"
November 8, 2017 
By Jodi Schwarzenbach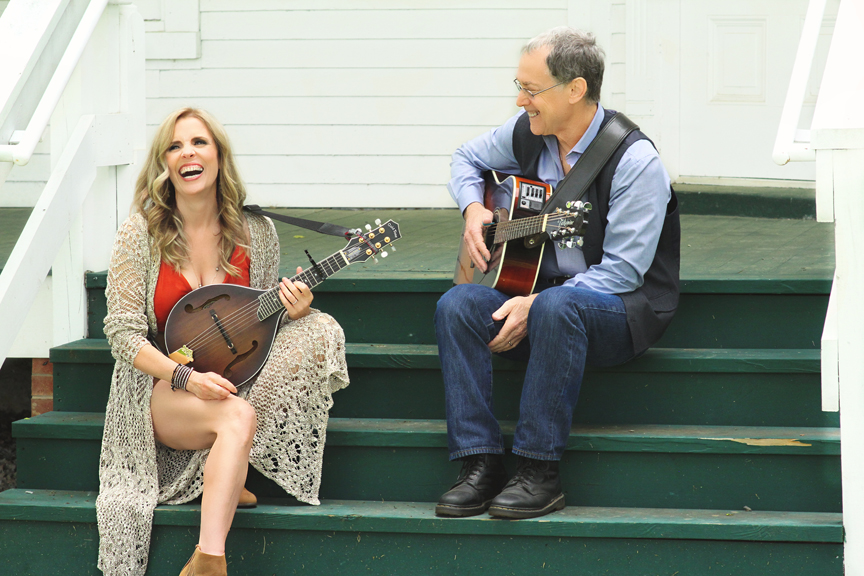 It's been a while since I've discovered new music that takes me from day to night, filling the air with an upbeat melody, enhancing carefree times when all is well. For me, that time is when the kids are home, after homework and other obligations that make up the bulk of their time. And there is that sweet spot in the beginning of the week when the laundry is caught up, weekly meals are prepped, and a couple of runs have been logged.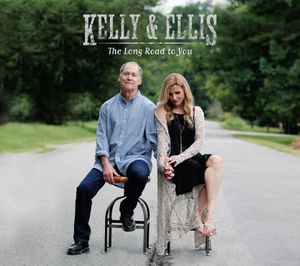 Progress like that deserves a back beat and a perfect CD is key. But a good collage of music also needs to be versatile enough to soothe your frantic moments and to make you reminisce for times gone by, maybe making you put thought into movement and save a friendship if it's salvageable or ease the sting of letting go. Yes, good music can inspire you in a myriad of ways. A good album also needs to stand the test of time so that you don't fondly just think back on past musical preferences, because they are still rocking your world, albeit in your minivan, being introduced to your kids. And I suppose if your musical tastes have evolved, they should reflect your bluesy side, take note of your rocker stage, pay homage to your favorite country crooners, and give a nod to your love of great folk songs. A new album by Kelly & Ellis has a quintessential sound and mass appeal to make it into your "forever" collection of musical favorites. 
Casey Kelly and Leslie Ellis are the singers in the duet of Kelly&Ellis. You may not recognize their names at first, but mention some of the most celebrated country songs in American musical history and you're likely to find they either wrote or sang on many popular standards you know and have even won an impressive Grammy. For Leslie Ellis, Broadway was always the goal and after several memorable performances in major productions like "La Cage Aux Folles" and "City of Angels," she landed the lead role in "CATS" singing "Memory." She eventually became a session vocalist for Sony Music singing background for the likes of Barbra Streisand, Faith Hill, Toni Braxton, and Celine Dion. A well-timed call in the late '90s led to her singing "My Heart Will Go On" with Celine Dion for the soundtrack of "The Titanic." They went on to win a Grammy for Record of the Year. 
Casey Kelly is a true career musician. His body of work is wide-reaching and well-respected in and out of the Nashville music scene. From writing signature hits for George Strait, like "The Cowboy Rides Away" and "Soon" for Tanya Tucker, to touring with Loggins & Messina, BB King, The Beach Boys and more, his songwriting and vocal skills are heralded. He almost missed a jam session at the famed Bluebird Café where Leslie Ellis was already on stage. He chose the seat next to her, the only one remaining and began warming up with some of his old songs. She knew the words to all of them. The rest is history. 
Unpretentious and living as a happily married couple in Nashville has brought Kelly & Ellis to a period where they are eager to share their love story with the world. Their new release "The Long Road to You," is the musical energy behind an itinerary of intimate gatherings with fans where they share their stories in humorous dialogue and delight the audiences with songs from their past and present. These shows are catching on like wildfire through social media. They will be appearing in Florida on November 17 at New Posh House Concert in Crawfordville; November 18 at White Eagles & Angels in Belleview; and November 19 at The Grotto at Crescent Lake House Concert, St. Petersburg. They hope you will stop in, get cozy and folksy for a while. They'll soothe you with songs from your past that you've been singing along to for years and will inspire you with their new releases, each telling a vivid story like the good songs seem to, and you might even be treated to a Broadway hit or two. For more information on upcoming tour dates, please visit https://www.kellyandellis.com/home 
Photos courtesy of Tennille Melcher, Moments By T

Singer/Songwriter Duo Casey Kelly, Leslie Ellis to Share Songs, Stories During Spokane Show 
September 15, 2017 
By Azaria Podplesky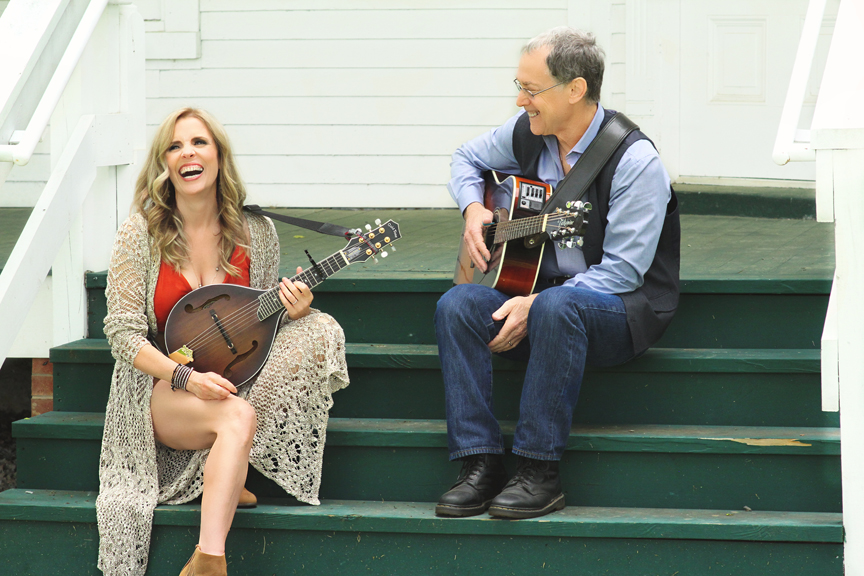 Leslie Ellis, left, and Casey Kelly bring their album "The Long Road to You" to the Bing on Thursday. (Tennille Melcher) 
Singers Casey Kelly and Leslie Ellis, a married couple who perform together as Kelly & Ellis, have a bucket list for their upcoming visit to Spokane. 
On the list? Hit the Northwest Ale Trail and try a burger at Dick's. They'd also like to see the waterfalls and try the wine, and they have their fingers crossed for a moose sighting. 
As only two musicians could, the pair presented its Spokane bucket list on its Facebook page as a song written to the tune of a new song they're working on. In the song, the pair also sings about their hopes for their Thursday show at the Bing Crosby Theater. 
"At the Bing Crosby Theater, we'll make new friends/Might even meet and greet before the evening ends/Sing our hearts out and we'll have some laughs/Maybe they will even ask us back," they sing. 
Songs and laughter is a good way to describe what fans can expect to hear, as Kelly&Ellis will share the, at times, almost unbelievable stories from their careers and behind their most popular tunes, which they've collected on their debut album "The Long Road to You," during their Spokane concert. 
Before they were Kelly & Ellis, they were known for their solo singing and songwriting. 
Grammy-nominated Kelly wrote "Anyone Who Isn't Me Tonight" for Kenny Rogers and Dottie West, "The Cowboy Rides Away" for George Strait and "Soon" for Tanya Tucker. 
Ellis starred as Grizabella in "Cats" on Broadway, singing "Memory" night after night, and won a Grammy with Céline Dion for "My Heart Will Go On." 
It wasn't until a writers round in 2004 at Nashville's Bluebird Cafe that the pair met. But, like a scene from a movie, the meeting almost didn't happen. 
Kelly almost forgot about the writers round and showed up just before showtime, taking the seat next to Ellis. 
"He showed up at the last minute with all his cords and his harmonica and cables in a Wild Oats paper shopping bag," Ellis said. "Completely almost missed the boat there." 
Kelly quickly got set up and warmed up by playing snippets of songs he'd written, which Ellis immediately recognized. 
"She starts telling me 'I know your songs. You mind if I sing along?'" Kelly said. 
The pair exchanged cards that night – Ellis was hoping to get demo work – and have been performing together ever since. 
Before they knew it, the pair, as a trio with musician Todd Cerney, was performing across the Southeast United States and in Europe. 
But Cerney was diagnosed with melanoma and died about four months later. 
Things ground to a halt for Kelly and Ellis after Cerney's death. The pair didn't play music for several months and when they were ready to start performing again, they weren't sure if they should try to find a new member and continue as a trio. 
"It took a long time to evolve to saying 'Look, we're not getting any younger. Let's do a project where we do what we do' which is yes, singing songs we've written, but also talking about these experiences we've had," Ellis said. 
That project eventually became "The Long Road to You," which features Kelly and Ellis' most well-known songs plus other songs from the pair's pasts including "A House I Once Loved In," "Just Ask Me," "(I Ain't Just) a Pretty Face" and "Tennessee Whiskey" (not to be confused with the George Jones song of the same name). 
Instead of recording the songs as they were originally written, the pair decided to reinvent each song for "The Long Road to You." 
A song of Kelly's turned into a call-and-response tune a la Ike and Tina Turner's "It's Gonna Work Out Fine," and Ellis' take on "My Heart Will Go On" became much softer thanks to a new guitar part Kelly wrote. 
"All of a sudden I realized instead of it being an anthem to my heart will go on, it's more like a prayer to a lost loved one," Ellis said. "It's very personal now. It's not so public." 
Like the album, the pair's live shows have evolved over time. Though the music is the main focus, the pair is open to seeing what happens from night to night as it shares stories about the long road that brought them together. 
"We'll get into a conversation with the audience and it becomes a moment, and we think, 'Wow, we need to do that. That needs to be part of this,' " Kelly said.
"We've just let it tell us what it wants to be." 
The pair anticipates they will let its next record, still a year or two down the line, dictate what it wants to be, though they imagine it will feature songs they've co-written. 
For now, the pair is focused on promoting "The Long Road to You" via live shows and videos the pair is working to produce. 
And, like they sung in their Spokane bucket list song, Kelly and Ellis are also hoping this album helps them make new friends. 
"We're on this journey to go on these adventures and find our people and find out about their towns and find them in living rooms and listening rooms and theaters and share with them these stories and songs," Ellis said.

Nashville singers Kelly & Ellis to perform Sunday in Port 
For the Times Herald-Record Jul 7, 2017
By Pat DeMono
PORT JERVIS - If Port Jervis seems an unlikely tour stop for successful Nashville singer-songwriters, consider Cooper Boone's mountain-to-Mohammed philosophy in bringing the best in their creative fields - yes, even from Music City, Tennessee - to his Celebrity Salon Series.
Kelly & Ellis will perform an acoustic concert at The Loft at Foundry 42+ at 7 p.m. Sunday. She, Leslie Ellis, a Broadway alumnus ("Phantom of the Opera," "La Cage aux Folles," "City of Angels," "Cats"), won a Grammy for lending her vocals to Céline Dion's "My Heart Will Go On." He, Casey Kelly, penned major hits for Tanya Tucker ("Soon"), Kenny Rogers and Dottie West ("Anyone Who Isn't Me Tonight"), and received a Grammy nomination for George Strait's signature song, "The Cowboy Rides Away." 
The duo's debut album, "The Long Road to You," was a long road, indeed, said Ellis. "The title of the record represents so many things," she said. "The long road to each other (they've now been married for two years) ... to figuring out what the record should be, letting it tell us what it was going to sound like ... the long road to developing our sound, to evolving from a singer-songwriter model into what is now a performance." 
That performance - the one in store for Port Jervis patrons on Sunday - emerged as a musical map of their journey, both individually and as a duo, marked with milestone recordings and pinned with stories - "some funny, some heartbreaking," said Ellis - of happenings along the way. 
After winning the Record of the Year Grammy for "My Heart Will Go On" in 1998, Ellis, derailed by divorce and the dot-com collapse, actually returned to waiting tables. "I was in a weird place of despair and anger and determination" that led to a move from California to Nashville. She decided, she said, "You get up. You don't give up." 
And it was in Nashville, at a "Songwriters' Round" at the Bluebird Cafe, a serendipitous meeting - "I almost didn't show up," Kelly admitted - forged the beginning of a partnership that changed the course of their careers and their personal lives. 
Ellis admits she had to be convinced to include "Memory" from "Cats" and the iconic "My Heart Will Go On" in the Kelly & Ellis stage story. "I had sung 'Memory' maybe a thousand times," she said. "I loved the show and was honored to sing it, but I got tired ..." It was Kelly who gave the song an R&B flavor and "made it more musically interesting to me," she said. 
As for the Céline Dion classic, Kelly experimented with riffs and guitar licks for months - "a different vehicle for the song to ride on," he said. "It was a process, running it through the machine and seeing how it came out the other end." What came out, said Ellis, was "a quiet song. ("My Heart Will Go On") wasn't a big diva song anymore ... it was almost like a prayer." 
Casey Kelly will, of course, forever be identified with the song George Strait sings at the close of every show - "The Cowboy Rides Away." As a songwriter, Kelly said, "I push myself to say something in a way that everyone will hear it and say, 'I wish I'd said it that way.'" He recalled a time in Baton Rouge, Louisiana, attending George Strait's concert at the Bayou Country Superfest. Strait ended the show with his traditional final encore of "The Cowboy Rides Away" before a packed stadium. When Kelly realized that some 100,000 concertgoers were collectively singing the words to his "simple" song, he was overcome with emotion. "I could barely stand it," he confessed. 
"We've had long careers," said Ellis. "We've had to keep reinventing ourselves," noting that the duo was once a trio; member Todd Cerney passed away in 2011. "We've had to keep getting back up again." 
t "But I'm so happy in this place we are now ... a place that I never could have imagined or designed." 
"We just had to let go of the reins," said her husband and singing partner.
The Orange Sullivan Journal July 7, 2017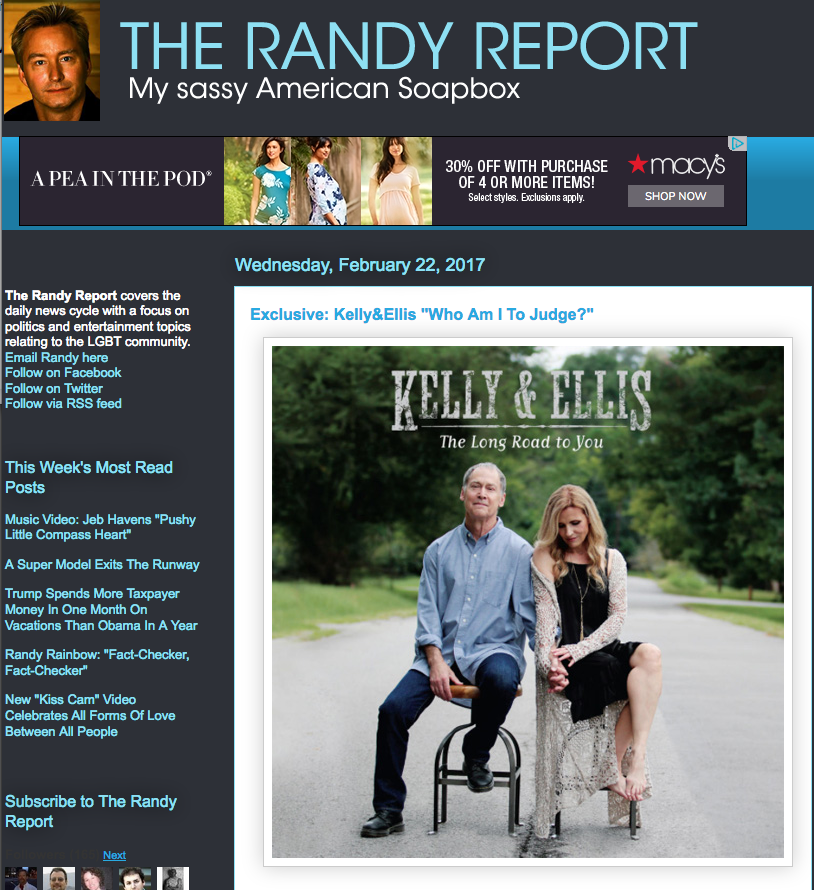 The Randy Report First Listen: "Who Am I To Judge" 
February 22, 2017 
By Randy Slovacek 
Stop, drop and scroll down to listen to this exclusive preview of "Who Am I To Judge?" from new acoustic duo, Kelly&Ellis. The song, from Casey Kelly and Leslie Ellis' upcoming album The Long Road to You, is a like a musical love-child of Mary Chapin Carpenter and Brian Wilson. The hooky melody is a perfect dance partner for the independent-minded lyrics: 
Religious right, or wrong? 
Serious art, or porn? 
And as for same-sex bride and groom 
Is it anybody's business who does what with whom? 
Who am I to judge? 
Who am I to say what anybody does? 
If it works for them, then I'm asking you my friend, 
Who am I to judge? 
A bit about how these two rambled and roamed down The Long Road to You: After graduating from the prestigious Carnegie-Mellon University with a degree in acting and music, Leslie Ellis journeyed from Broadway (City of Angels, Cats, Music of Andrew Lloyd Webber) to Berkley to Nashville, picking up a Grammy® Award along the way for her vocal contributions to Celine Dion's mega-hit "My Heart Will Go On." 
Casey Kelly's college years were spent opening arena concerts for major artists; a stint writing at the hit making factories at 1650 Broadway and the Brill Building; touring with Loggins & Messina, The Beach Boys and BB King; and writing hit songs (Grammy nominated #1 "Anyone Who Isn't Me Tonight" recorded by Kenny Rogers & Dottie West, George Strait staple "The Cowboy Rides Away," Tanya Tucker's "Soon"). 
Thematically, this unique collection of songs frames the duo's well-travelled talents as the diverse ingredients they are. Americana, Celtic, R&B, Broadway, pop and country meld effortlessly allowing Kelly&Ellis to lay claim to their own unique musical space, proving that artful songwriting and musical talent is always a winning recipe. 
Among the winning new works, "I Just Don't Understand It," "An Ordinary Day," and "(I Ain't Just) A Pretty Face" are highlights showcasing range as well unmistakeable chemistry. 
In addition to the craft and skill on display here, I'd be remiss if I didn't acknowledge that Leslie Ellis' voice is easily one of my favorite musical instruments in the world. And throughout the album's thirteen tracks, Kelly's genius guitar work is undeniable. 
Along with new songs, both artists re-visit and re-invent past musical triumphs. Ellis' lithe vocals take flight over a steady, earthy drum beat on "My Heart Will Go On," while she folds her country years back into a luscious and rich renewal of "Memory" from her Cats days. Kelly's take on "The Cowboy Rides Away" reveals a life well-lived with a vocal that feels as warm and comfortable as my favorite 20 year old cowboy boots; and the duo's teaming on "Anyone Who Isn't Me Tonight" bounces and beams with sass for days.

The Long Road to You Review 
February 24, 2017 
By Brenda Hillegas 
For every duo that makes it big, there are ten more hoping to follow in their footsteps. For Leslie Ellis and Casey Kelly, "fame" is something they have both experienced before meeting. The experience of "fate" however, took its time to work some magic and have the two musicians collide at the Bluebird Cafe in Nashville. 
Leslie Ellis took on Broadway (which is very evident in her vocals on The Long Road to You). She landed roles in La Cage Aux Folles, City of Angels and CATS. She was also writing her own songs and performing them around New York City. Eventually, she moved to Santa Cruz, CA where a gig as a session vocalist for Sony Music found her singing demos and background for Céline Dion, Barbra Streisand, Faith Hill and Toni Braxton. In 1998, the Grammy for Record of the Year went to "My Heart Will Go On" from the movie Titanic– Ellis was a part of that song. A country-road, ballad version of the song can be heard on The Long Road to You. 
Casey Kelly had similar experiences- his song "The Cowboy Rides Away" became a hit for George Strait, he toured with Loggins & Messina, the Beach Boys, BB King; he co-wrote Grammy nominated #1 hit, "Anyone Who Isn't Me Tonight," recorded by Kenny Rogers & Dottie West. 
Sadly, both Ellis and Casey experienced breakups in their marriages and found themselves living in Nashville. After meeting, they lifted each other up, inspired each other, wrote together. The Long Road To You has all the components one would expect from a duo with backgrounds such as theirs– humor, sadness, strength and gratitude. Specs of their past (personal and professional) are heard throughout this album. Track eight, "Just Ask Me," is the perfect example of how well these two work together. They're fun, beautiful, heartbreaking and so much more wrapped up into a collision of genres (classic rock, Celtic, New Orleans R&B, contemporary pop, Broadway) from their careers. 
The Long Road to You is about their journey to find each other, to find their place; for the listeners, we finally found them.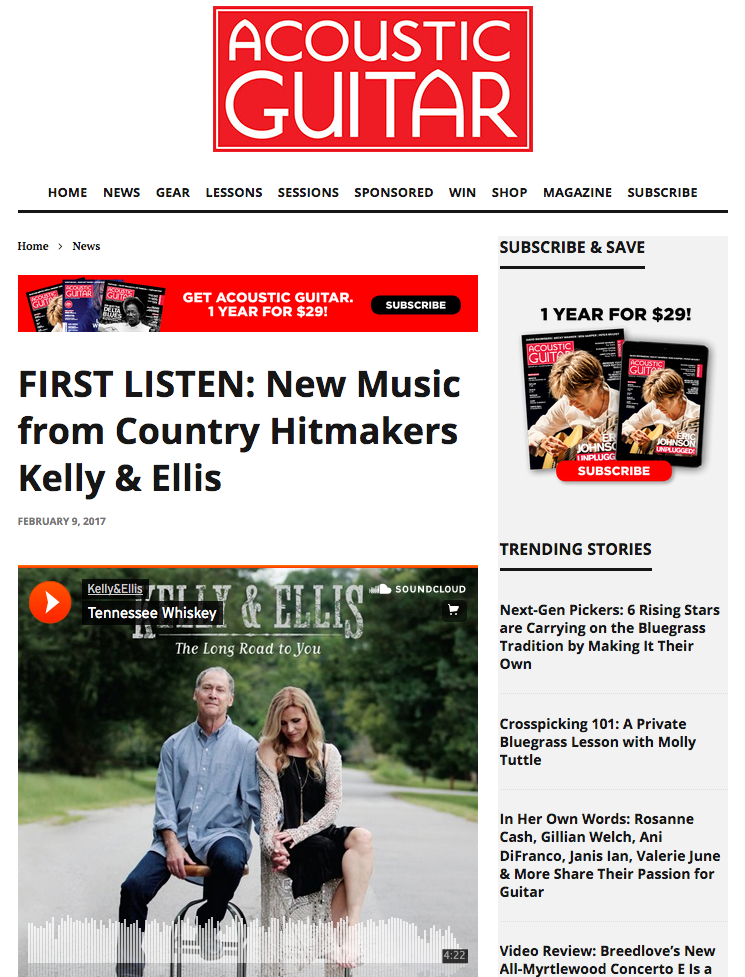 Grammy-nominated country-and-pop duo return with
lush, guitar-rich arrangements
By Pat Moran 
Before recording The Long Road to You, Casey Kelly and Leslie Ellis' debut as Kelly & Ellis, the husband-and-wife duo had each scored a stream of accomplishments, including country hits, a showstopper from the musical CATS, and a contribution to the Academy Award-winning film "Titanic." 
Together, they revisit these triumphs. "The Cowboy Song" George Strait's signature hit penned by Kelly, is recast as a forlorn waltz borne on Kelly's ringing cantina guitar and Ellis' warm harmonies. "Anyone Who Isn't Me Tonight," Kelly's Grammy-nominated number one for Kenny Rogers and Dottie West, rides scampering acoustics as Kelly's declaration of love receives playful pinpricks from Ellis' saucy interjections. 
  
"Memory," Ellis' breakout number from her Broadway days, gets an Americana makeover with coiling guitars that merge front porch picking with delicate arpeggios. A revamping of Ellis and Celine Dion's Grammy-and-Oscar-winning "My Heart Will Go On," adds winding acoustics to sumptuous orchestration. 
The pair also turns voice and guitars to new tunes. "Who Am I to Judge" wraps a plea for tolerance in the twanging clangor of slipknot-picked guitars. Alliterative wordplay joins percussive Spanish-flavored guitar to propel "I Just Don't Understand It." "An Ordinary Day" jaunts along on jostling acoustics and waves of vibrato. 
  
The Long Road to You wraps Kelly & Ellis' journey—a tuneful autobiography, a slice of music history and a vision of their future—in lush, guitar-rich arrangements. Were lucky to go along for the ride.